Get ready to explore the sun-soaked shores, pristine sands, and endless waves that make Australia's coastal landscapes so enchanting. Discover the allure of waking up to the gentle sounds of the ocean and falling asleep under a sky adorned with stars. These beachside escapes embody the beauty of outdoor living, offering an array of activities like swimming, fishing, surfing, and more!
With Breeze Holiday Parks, you can expect top-notch amenities and family-friendly facilities to ensure your seaside camping experience is both comfortable and enjoyable. Get ready for the perfect coastal getaway as we guide you through some of Australia's most picturesque beachside camping destinations.
Queensland
Bargara
BIG4 Breeze Holiday Parks - Bargara stands out as one of Australia's premier beachside camping destinations, and it's not hard to see why. Located on the sun-kissed coast of Bargara, this pristine holiday park offers an ideal blend of coastal tranquillity and modern convenience. With direct access to the beautiful Nielson Beach and the breathtaking Bargara Esplanade, you can step from your campsite into the soothing embrace of the ocean.
But what truly sets this destination apart is the thoughtful amenities and family-friendly atmosphere provided. You'll find everything you need. Plus, their friendly staff are dedicated to ensuring your stay is as enjoyable as possible, making it an excellent choice for both seasoned campers and those new to the outdoor experience.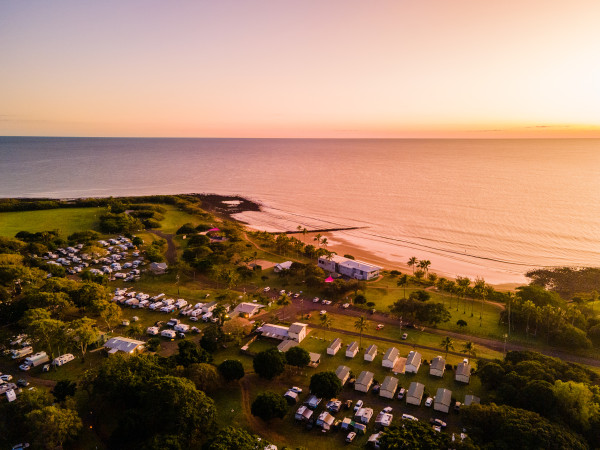 South Australia
Port Elliot
BIG4 Breeze Holiday Parks - Port Elliot characterises the essence of a dream beachside camping destination and firmly earns its place among the best in Australia. Nestled on the stunning Fleurieu Peninsula of South Australia, this coastal haven offers a unique blend of relaxation, adventure, and coastal beauty.
Boasting direct access to Horseshoe Bay, where the sparkling blue waters meet golden sands, this park provides campers with a beachside paradise. The serene ambience and breathtaking views set the stage for unforgettable sunrises and sunsets, transforming any camping experience into a coastal masterpiece. Whether you're chasing the thrill of water sports, exploring the historic town of Port Elliot, or simply unwinding to the gentle lull of ocean waves, BIG4 Breeze Holiday Parks - Port Elliot presents the perfect backdrop for an extraordinary beachside camping experience.
Port Hughes
Nestled on the captivating Yorke Peninsula in South Australia, BIG4 Breeze Holiday Parks - Port Hughes stands as one of the finest beachside camping spots in Australia. This picturesque destination offers an irresistible combination of pristine sandy shores and crystal-clear waters.
With direct access to the stunning Port Hughes Beach, you can step right from your campsite to the inviting waters of the Spencer Gulf. The coastline here is known for its natural beauty and offers an array of water activities such as swimming, fishing, snorkelling, and boating. Whether you're looking to unwind with a book on the beach, immerse yourself in water sports, or simply bask in the serenity, this beachside gem guarantees an unforgettable camping experience in one of the most idyllic settings in Australia.
Western Australia
Busselton
Nestled along the stunning coastline of Western Australia, BIG4 Breeze Holiday Parks - Busselton stands out as one of the premier beachside camping spots in Australia. With its unbeatable location and an array of enticing features, this destination is a haven for beach-loving campers.
What sets Busselton apart is its direct access to the iconic Busselton Jetty, one of the country's longest timber-piled jetties. You can stroll from your campsite to the jetty in mere minutes. The jetty area offers endless possibilities for relaxation, entertainment, and water-based activities. You can try your hand at fishing, swim in the gentle waters, or marvel at the vibrant marine life while snorkelling or diving. Whether you're building sandcastles with the kids, watching the sunset over Geographe Bay, or simply enjoying the fresh sea breeze, Busselton promises a classic beachside camping adventure in one of the most breathtaking coastal settings in Australia.